Trust X Alliance Overview
Trust X Alliance is a global initiative from IT distribution company Ingram Micro, which Symitry joined in 2013 as a group of founding UK members. The UK group includes 20 IT service providers, who cooperate and innovate together to provide their customers with a full suite of best in class services from industry specialists.
Trust X Alliance is a powerful network of Elite Technology Service Providers whose mission is to enable businesses to be more successful through the use of technology.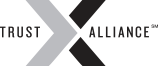 Top Tier Services
Trust X Alliance provides best in class services, including:
Cyber Security and Protection – Consultancy and technical services
Managed Services – Outsourced IT management & Helpdesk
Office 365 migration services
Public & Private Cloud
Hybrid Computing
SharePoint Intranet and Development Services
Application development
Wireless, wired and internet connectivity
Global Reach
Being a member of Trust X Alliance allows us to mobilise services with partners, for our customers across the world. Today, our membership includes over 350 companies in United States, Canada, United Kingdom and now Brazil. We will soon be expanding into new regions worldwide.
The collective resources and expertise of Trust X Alliance partners result in a level of IT services and solutions Customers won't find anywhere else, helping them rise above IT challenges to build better businesses.